The Weekly Roundup: 4.30.2010
Once again the weather is too good to be inside typing away, allowing the interwebs to siphon away my few remaining brain cells that have not been damaged by drinking. And, I really should be in the park with a notebook drafting my grad school application essay. But, I'll probably go to this vegan BBQ/house show instead. Basically, we'll be keeping things short here again on the roundup. Oh sweet, sweet procrastination! Without it, we'd all be uptight overachievers.
Somefield
Barnaby Ward is an illustrator who makes eerie prints of pretty girls with monstrous animals. They remind me of Edward Gorey and Cowboy Bebop. I would say that is a freaking awesome combination for inspiration. You can see a copious amount of his work on
Somefield
, his website, which includes a bunch of free desktop backgrounds. This is currently what my computer looks like.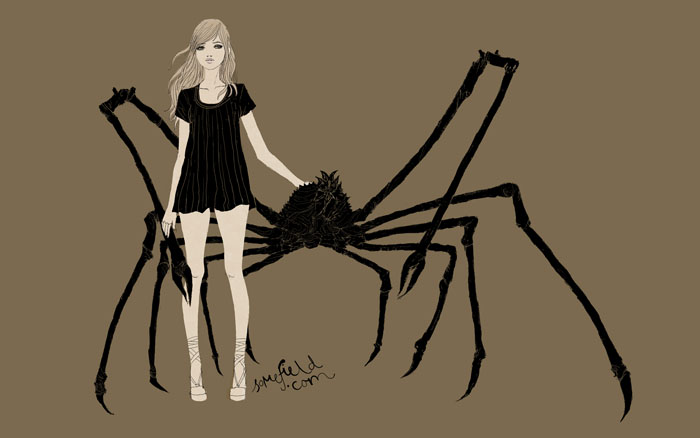 Girl with Japanese Spider Crab

(2008)
Next Girl
The Black Keys
have made another sweetass video for the single
Next Girl
to promote their new album,
Brothers
, which is coming out May 18th. Once again Frank, a sexy t-rex who sang in the first promo video for the single
Tighten Up
, makes an appearance. This time with some hot girl-on-dino action. There's pretty much no way a real music video could top this.
Beautiful People
This week Pitchfork posted
Beautiful People
, the first single off of
The Way Out
, the new album from
The Books
. Rumor has it that
The Way Out
will be released some time this summer, making it the first full-length from The Books in five years. I could weep with joy. Go to Pitchfork to hear the track and download it for free.
New Books Track: "Beautiful People"
Get Busy
I found this personal tumblr entitled
GET BUSY
this week that was pretty sick in my opinion. I do not know the girl to whom it belongs, but I kind of wish I did. As far as I can surmise, she's a punk rocker from Baltimore way. Dear lady, let's be friends.
Werner and Waldo
Infamous director Werner Herzog delves deep in this interpretative reading of the children's classic,
Where's Waldo
. Never mind that the original work has little to no words. Herzog dissects its very essence, laying bare its existential soul. When you're that badass you don't need words.