Rosemary Baked Tofu
I developed this recipe a couple of years ago so my vegan brother and I could have something nice, fancy, and baked to eat for Christmas instead of turkey. I've traditionally only made it for Thanksgiving and Christmas, but it's so tasty I'm vowing to make it more often. Actually, even meat-eaters have begun to salivatingly expect this baked tofu at my mom's annual Thanksgiving potluck.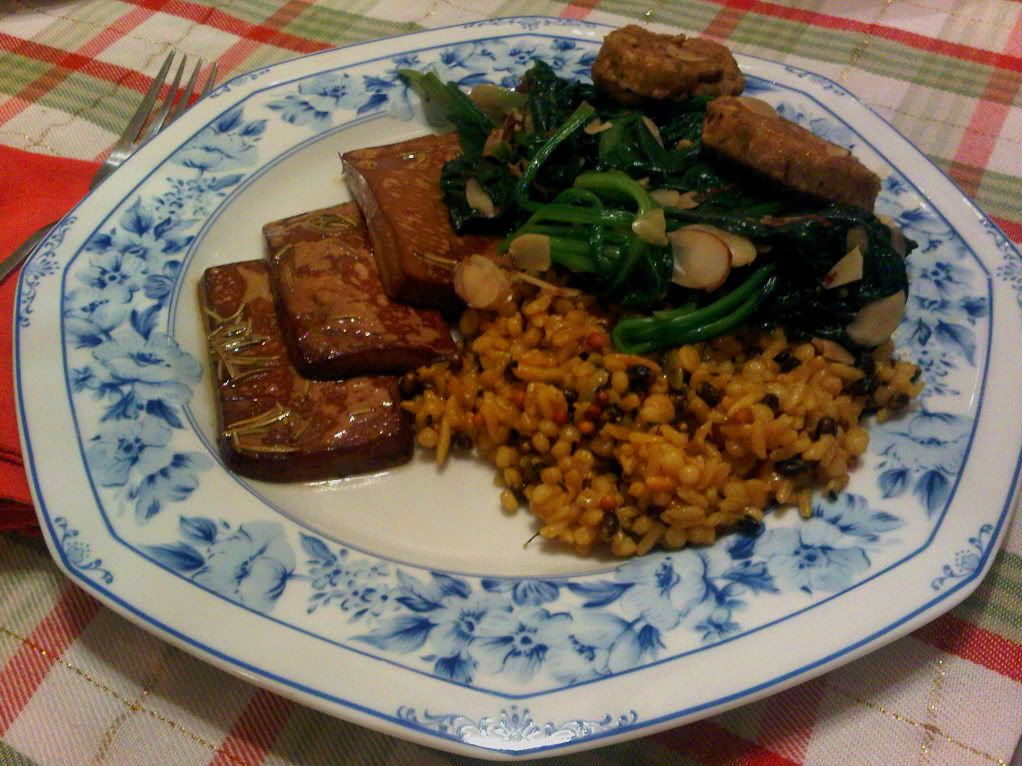 ***Yields 6-8 servings.***
***Yields 6-8 servings.***
Rosemary Baked Tofu


2 14oz packages of extra firm tofu
3/4c Extra virgin olive oil
3/4c Orange juice
3/4c Soy sauce
1tbsp Seasoning blend for chicken

(I recommend Grill Mates Montreal Chicken)


1tbsp Dried rosemary leaves
1tsp Fresh ground black pepper

In a leak-proof container (I use an old Mason jar), combine the extra virgin olive oil, orange juice, soy sauce, and seasoning blend for chicken. Close tightly, and shake vigorously for several minutes to make the marinade. Pour some of the marinade into a tray you can cover (I use a 9"x13"x3" Tupperware container), just enough to cover the bottom of the tray.

Cut the tofu in to 1 1/2"x2 1/2" pieces that are about 1/2" thick. Place them in the tray so they are not touching. Pour the remaining marinade over the tofu. The marinade should almost cover the tofu. Depending on the size of the tray, you may need to make some additional marinade.

Cover the tray, and let it sit in the refrigerator for several hours. Next, use a fork to flip the tofu slices over to evenly marinate them. Sprinkle the dried rosemary leaves and fresh ground black pepper over the tofu slices. Let sit in the refrigerator for another several hours. The total marinating time should be at least 8 hours, but no more than 24 hours.

Preheat the oven to 400 degrees. Use a fork to take the tofu slices out of the marinating tray and place them on a baking tray with raised sides so they are not touching. Carefully pour 2tsp of leftover marinade over each tofu slice. Place the tofu in the oven. Bake for 10mins and then baste each tofu slice with 1tsp of extra marinade. Repeat for 30 to 40mins or until the tofu is a medium brown color, and the rosemary looks a little crispy. Remove from oven, and let cool a little before serving.