Vegan Crazy Cake with Icing
I found this amazingly crazy cake recipe online, and adapted it to suit my tastes. Anyone who's ever made a cake from scratch before will probably find the directions and ingredients surprisingly unusual. However, I can vouch for it. I've made this cake twice now with popular results. Since the cake just happens to be vegan, I thought I'd develop a vegan icing to match. Non-vegans have agreed it tastes just like it was made with a stick of butter. YAY, BAKEGOODS!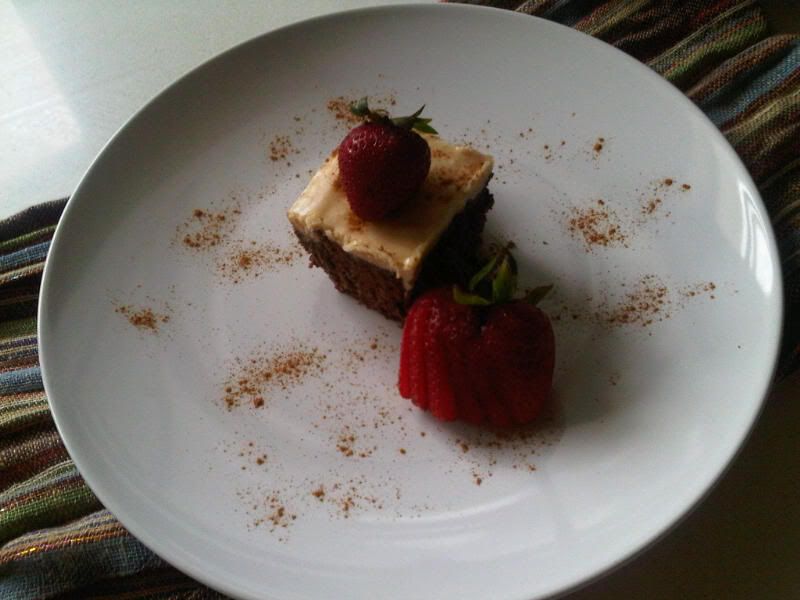 *** Yields one 8"x8" cake. ***
Vegan Crazy Cake


1 1/2c Unbleached flour

(I recommend King Arthur All-Purpose)


1c Sugar
1/2c Natural cocoa powder

(not Dutch process)


1 1/2tsp Baking powder
1tsp Powdered cinnamon
1/2tsp Salt
1tsp Apple cider vinegar
2tsp Pure vanilla extract
1/2c Canola oil
1c Warm water

Preheat oven to 350 degrees. Sift unbleached flour, sugar, natural cocoa powder, baking powder, powdered cinnamon, and salt into an ungreased 8x8 cake pan. Evenly smooth the dry mixture with the back of a spoon, and then make two small and one large indentations.

Carefully pour the apple cider vinegar in one small hole, the pure vanilla extract in the other small hole, and the canola oil in the large hole. Then evenly pour the warm water over the top of this whole crazy set up. Stir until smooth.

Bake the cake for 35 to 45mins, or until a sharp knife can be inserted in the middle and removed clean. Do not take the cake out of the oven to check it. Temperature variations will cause the top to crack.



Vegan Icing


3/4c Vegan butter

(I recommend Earth Balance Original)


1c Confectioners sugar
1tsp Pure vanilla extract
1/2tsp Natural cocoa powder
1/2tsp Powdered cinnamon

Whip the vegan butter and confectioners sugar together until smooth. If you let the vegan butter sit out at room temperature for 30mins, it will be easier to mix. Add the pure vanilla extract, natural cocoa powder, and powdered cinnamon. Whip together until well-blended and smooth.

Keep the icing refrigerated until about 30mins before you plan to ice your cake. Once the cake is finished baking, remove it from the oven and stove area to cool. Apply icing with a butter knife after the cake has cooled to room temperature.