Almond Spinach Sauté over Curried Grains
This is a dish I developed to satisfy a range of tastes: salty, sweet, and spicy. It blends some unlikely flavors to some pretty tasty ends. Just as many successful recipes have been conceived, this one started with an accident. I was boiling up some grains, but they tasted pretty bland. I added some salt, and as I frequently do, put in way too much. To balance out the saltiness, I decided to sweeten the sauté with brown sugar, and everything worked out for the better. Still, for this official recipe I cite a little less salt than my accidental amount for the sake of heart health.
To appeal to an even broader range of tastes, I recommend pairing this dish with something sour on the side. So far every time I've cooked this, my friend Emily has also made some delicious coleslaw with vinaigrette dressing instead of mayo. The sourness of the vinegar perfectly matches the sweet sauté and salty grains. For the best blend of flavors, serve the sauté on top of the grains.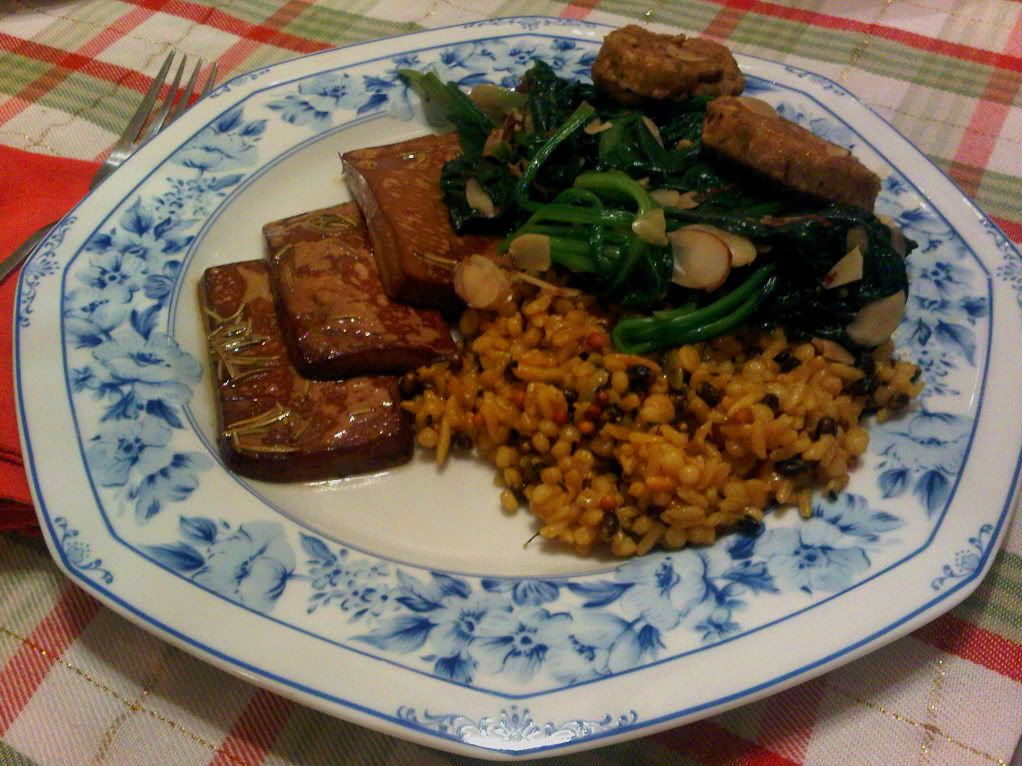 ***Yields 6-8 servings.***
Curried Grains


2tbsp Toasted caraway seed
8c Water
1/2c Wild rice
1/2c Barley
1c Brown rice
1/2c Red quinoa
2tbsp Curry powder
2tsp Salt

Usually when you buy caraway seed it comes raw. You can use it as is, or you can toast the seeds to bring out the flavor. Preheat the oven to 350 degrees. Spread the caraway seed out in a small tray. Toast the seeds for 10 to 15 minutes, or until they start to brown. In a large pot, bring the water to a boil. Add the toasted caraway seed, wild rice, barley, and brown rice. Return to boil, and then reduce heat to simmer the grains for 45 minutes. Stir occasionally, and add additional water as necessary. Add the red quinoa, curry powder, and salt. Simmer for an additional 15 to 20 minutes, frequently stirring, until the grains are fully cooked, and there is no water left standing in the pot. Remove from heat.

Almond Spinach Sauté
2tbsp Extra virgin olive oil
1lb Vegetarian sausage

(I recommend Gimme Lean Sausage)


1c Chopped raw almonds
1/4c Chopped garlic
1/2c Water
2lbs Spinach
1tsp Powdered red pepper
1/2c Brown sugar

Once you get the grains simmering, you should begin the sauté. Add the extra virgin olive oil to a large frying pan, and fry the vegetarian sausage, chopped raw almonds, and chopped garlic until all the ingredients are lightly browned. Remove from heat and allow to sufficiently cool before adding the water and spinach. When the spinach is almost done, sprinkle the powdered red pepper and brown sugar over the sauté. Stir thoroughly, and then remove from heat.