Vegan Strawberry Rhubarb Crumble
'Tis the season for strawberries and rhubarb. Spring is ending and summer is starting, which means it's that wonderful time of year when fresh strawberries and rhubarb are available at the same time. I went to the local farmers market this Sunday with my friends, and was inspired to get cooking. With some zesty lemon and ginger, this is a great dessert to take to the next BBQ you get down at.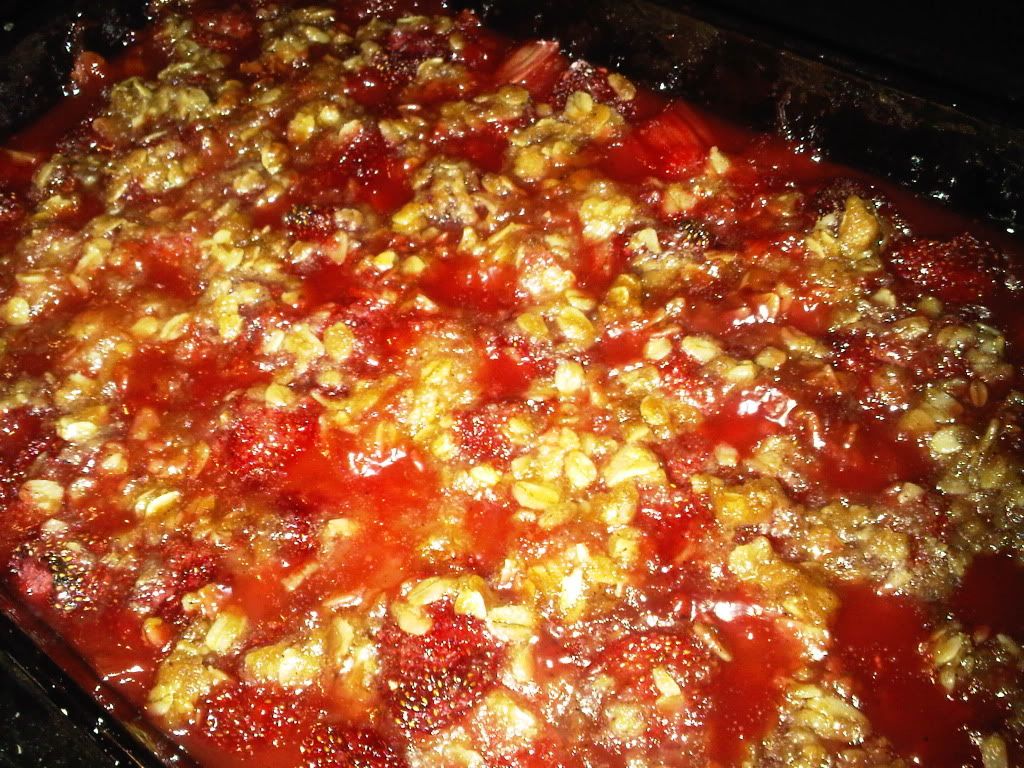 ***Yields one 9"x13" crumble.***
Vegan Strawberry Rhubarb Filling


4c Whole small strawberries
4c Diced Rhubarb
3/4c Sugar
1 Lemon
2tsp Grated ginger
1/4c Tapioca flour

Wash the strawberries and remove the stems. Using the strawberries whole keeps the crumble hearty, but if you're using larger strawberries, you'll want to cut them in half. Wash and dice the rhubarb stems into roughly 1 inch pieces. Do not use the leaves or branches, because they are toxic. Mix the strawberries, rhubarb and sugar in a 9"x13"x3" baking pan, making sure the sugar thoroughly coats the fruit. Sprinkle the juice and pulp of the lemon over the mixture, and allow it to sit at room temperature for 30 minutes to an hour. Then thoroughly mix in the ginger and tapioca flour.



Vegan Crumble Topping


1c Rolled oats
1c Brown sugar
1/2c Canola oil
1/2c Flour
2tsp Powdered nutmeg

Preheat the oven to 350 degrees. In a medium bowl combine the rolled oats, brown sugar, canola oil, flour, and powdered nutmeg. Stir until the mixture becomes crumbly. Sprinkle over the filling. Bake for 1 hour. Remove from heat, and allow to cool for 1 hour.